The Traveller Range
So much more than a black box...
The Traveller™ range offers highly portable solutions to store and charge tablets such as iPads, small laptops, Chromebooks, e-readers, or games-based learning devices. Each portable case is robust and the build quality is of the highest standard. The wide range of cases available include a range of 'charge only' or 'charge & sync' offering synchronisation of devices such as iPads to a host laptop or MacBook.
Traveller™ cases are suitable for ground or air transportation, for use in the office, classroom, field, or at more demanding industrial environments. Some Traveller™ cases also support devices in even the largest of ruggedised cases such as the popular Gripcase.
Made of high impact durable plastic and finished in black, their robust construction will survive knocks and scratches whilst offering the highest protection to the valuable devices inside. Heavy duty wheels and strong carry handles makes transporting them easy. Each case had been designed with inner foam at the top and bottom to protect the devices whilst in transit.
All products in our Traveller™ range incorporates LapSafe's unique ultra-safe power management system for user safety and protection of devices as STANDARD. Includes effective cable management and for added security each case can be locked using user's own padlocks.
All cases in the Traveller™ range are supplied in black and have a lifetime warranty. Supplied with a two metre mains lead with 5amp fuse unless otherwise stated.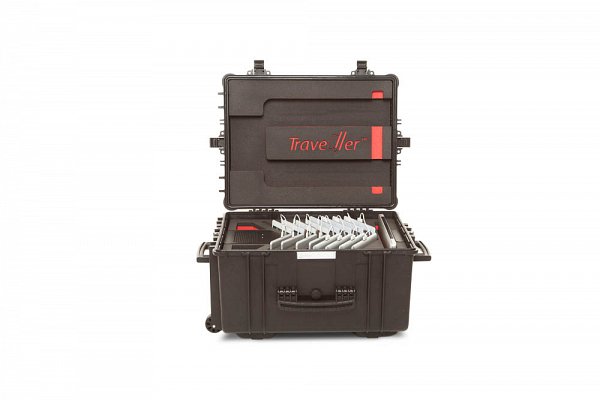 Traveller Charge & Sync
The Traveller™ 'Charge & Sync' cases can store up to 16 devices. All cases charge and sync devices in the fastest possible time using their own USB cables. Some Traveller™'s can even accommodate devices in even the largest of ruggedised cases such as the popular Gripcase.
More information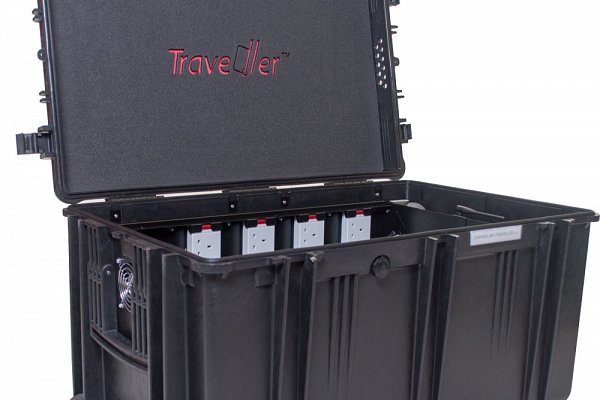 Traveller Universal
The Traveller™ Universal stores and charges up to 16 tablets, netbooks or small laptops using their own AC adaptors. Strong robust case with adjustable internal foam to expand or retract to fit devices.
More information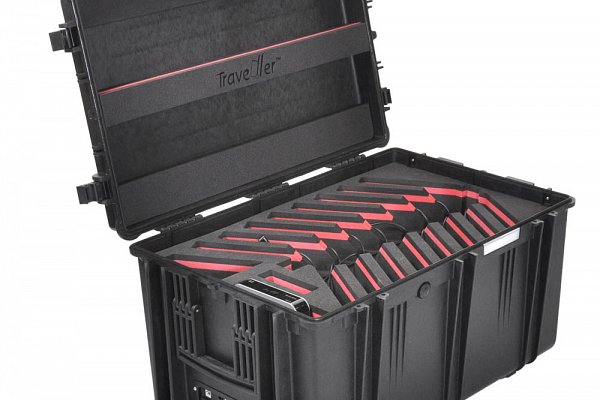 Traveller SmartLine
The Traveller™ SmartLine™ case is the only case available within the marketplace that benefits from LapSafe's ultra-safe low voltage built-in charging cables, there is no need for the AC adaptor! Stores and charges up to 16 small laptops or netbooks.
More information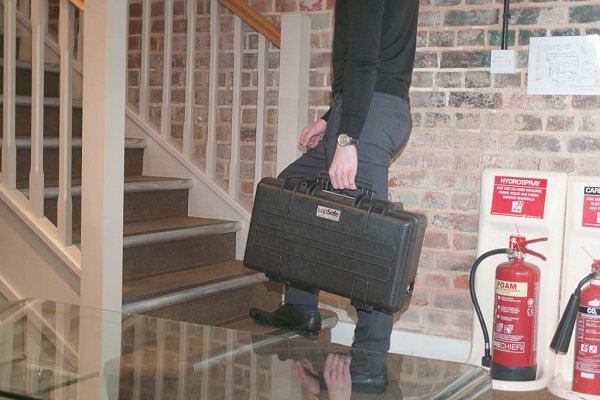 Traveller eMini
This neat little case can store and charge up to 16 iPad Mini's or 16 eReaders and has built-in charging cables for easy of use. Extremely portable with an optional shoulder strap - it makes light work of sharing resources.
More information