Experts in Self-Service Solutions
About LapSafe®
LapSafe® is the UK's industry leading expert in providing innovative and proficient charging solutions such as self-service smart lockers, trolleys and cabinets that assist in the deployment of assets.
We are experts in our field and the name LapSafe® has become synonymous with safety and quality as well as being a trusted brand leader across the World.
LapSafe®'s portfolio offers technologically advanced solutions that ensures assets are taken care of in volume with minimal staff interaction. Specialising in providing simple yet comprehensive software workflows for our self-service lockers that can used in any environment.
We provide an incredibly powerful and adaptable locker solution with our built-in electronic systems, connectivity, intelligent charging, and third-party integrations.
Used Globally in education, healthcare, manufacturing, workplace, retail, aviation, warehousing and more, ensuring your users have access to what they want and when they want it.
At the heart of our Smart Locker range is our unique innovative cloud-based platform, ONARKEN®. Designed by us to manage drop off and collection, management of IT assets, hot lockers, and automated loaning of equipment, and much, much more.
Our products are designed in-house and manufactured within the UK. We have our own dedicated installation team as well as our own delivery fleet.
Our ethos is to deliver on our promises, focus on quality and provide excellent customer services and support.
The Experts for Over 20 Years
Between the three members of senior management, LapSafe®'s has a wealth of experience in both the IT and security industry. This is backed up by skilled staff including qualified mechanical and electrical engineers. Strong leadership supports all key areas of the business from product design, production, business development, sales, and marketing.
The first ever LapSafe® was designed and manufactured in the year 2000, and over the last twenty or so years, LapSafe® has developed the widest range of secure storage and charging solutions for IT devices in volume.
The brand name LapSafe® is extremely well known within the education and corporate sector. In fact, the name LapSafe® has become a 'Hoover' syndrome because schools and IT resellers talk about a LapSafe® as a storage and charging trolley, meaning a cabinet that holds and securely stores laptops whilst recharging them.
We are the original inventors of the laptop storage and charging trolley and when it was first launched there was no other such product available anywhere! Since then, 'metal manufacturers' have tried to copy the concept, but no one has been as successful in providing the ultra-safe power management solution that fits into our product range, ensuring that the unit can charge up to 30 laptops, 60 tablets in one cabinet without tripping fuses – some actually break electrical regulations.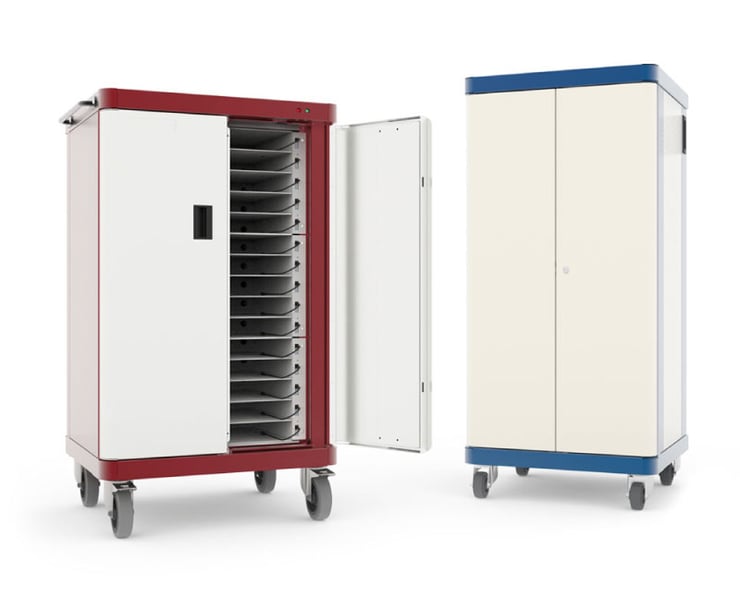 Around 70% of UK universities are now using LapSafe®'s Self -Service Smart Lockers to loan fully charged devices to their students and UK colleges are closely following. It's not just the education sector that are automating their asset loans, recently The London Ambulance Service rolled out the use of our Smart Lockers to twenty-two sites across London. With hybrid working and the need for easy asset management our Smart Lockers are now being rolled out across all sectors.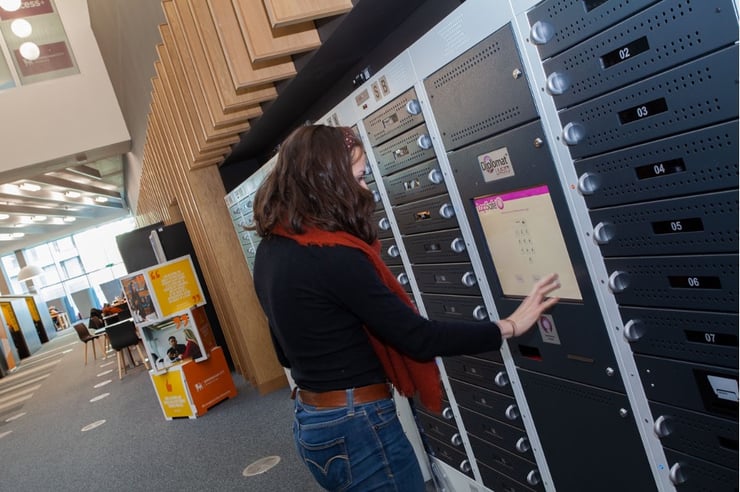 We are proud of what we have achieved and determined to protect our brand.
Our products are fully and independently UKCA certified and rigorously tested to meet or exceed required British Safety Standards and HSE (Health and Safety Executive) guidelines. Our patented power management systems ensure users safety whilst focussing on easy device retrieval. All our products are covered by an extensive warranty, making us a cut above the rest.
We work with over 300+ resellers globally, who promote and sell our product range together with their own.
We pride ourselves on our reseller and manufacturing partner programme and it is these together with our quality products that have allowed our business to grow from strength to strength.
Customer Support NPS Score
We use the industry standard Net Promoter Scoring System (NPS) to monitor and measure our customer service performance.
View Our Real-Time Support NPS Score
British Manufacturer
LapSafe® manufactures all its products within the UK and supports as many local businesses as possible. We install, support, and deliver our products ourselves to ensure that our 'end users' receive the best attention throughout their purchase and afterwards. When we sell through our selected resellers, we remain the contact for service and support to ensure our 'end users' always receive our best attention.
We are members of 'Made in Britain' an organisation that promotes creativity, ambitious standards, and sustainable growth to the world.
Read our blog for more information about the Made in Britain membership

Certifications
ISO 9001:2015
UKAS Certified for over fifteen years. Our quality management system demonstrates our ability to consistently provide products and services that meet customer and applicable statutory and regulatory requirements.
Download our ISO 9001:2015 Certificate
ISO 14001:2015
Our environmental management system helps LapSafe® achieve the intended outcomes of its environmental management system, which provides value for the environment.
Download our ISO 14001:2015 Certificate
Safety and Certification
At LapSafe® safety is our number one priority. Our products are independently tested by a Notified Body to ensure they are 100% safe and suitable for sale in their destination country. This provides peace of mind for all our customers and us.
A Notified Body is a body approved by the UK and EU member states (and accepted by the European Commission and other member states) that can provide UKC and CE certification services. Notified bodies also offer to test compliance and emissions for other Countries.
All our products are undergoing retesting to the latest standards (emissions and safety) and are being recertified. During 2023 will see our products recertified (safety) for:
UKCA, CE, UL (US and Canada)
CB and ECAS (UAE)
ACMA (Australia and New Zealand)
EMC
FCC (US and Canada)
Awards
Over the last twenty plus years, LapSafe® have won a variety of business awards from:
'Spirit of Ingenuity' - 2002
Innovation & Excellence - 2002
Business 2 Business 2003, 2005, 2006, 2010
Colchester Business Woman of the Year 2019
Innovative Product of the Year 2020
Company of the Year 2021
Essex Business 2 Business 2022