Case Study
Merthyr Tydfil College

LapSafe® asked Erika Neck, Learning Resources Co-ordinator at Merthyr Tydfil College, how using the LapSafe® Diplomat™ Pro Smart Lockers has helped to streamline, and improve their original manual laptop loaning service.
Background
The college's previous method of loaning laptops to students required members of staff to constantly allocate laptops to students manually from behind a desk in the library.
This proved to be extremely time-consuming and inefficient as it required members of staff to be always available. There was no way of monitoring the charge levels of the laptops, so they often also loaned out laptop chargers.
Laptop storage and charging trolleys are used in the classrooms for students to access their coursework but they often found the devices with little or no charge or there was insufficient laptop availability.
Accountability was also an issue as laptops would go missing or get damaged, and faults would not get monitored or resolved.
In previous years, the college had a limited number of laptops in the library, which were for use within the library only. Classroom staff had access to shared laptop storage and charging trolleys but had no way of reserving devices or knew how many laptops were working or had been charged.
The college would service existing laptops every year and purchase new ones, but this was becoming inefficient and unsustainable. No one was monitoring the equipment either.
Streamlining the Service
After the initial COVID impact the college realised they could offer a more efficient service by automating the laptop loan service. The college's Head of IT looked to LapSafe® for a way to streamline their service to students and for there to be less impact on staff time and repairs could be monitored.
They settled upon LapSafe® Diplomat™Pro Smart Lockers and once installed, students were able to help themselves to a laptop without staff interaction. This has freed up library staff allowing them more time to work face to face with the students or on other tasks.
LapSafe®'s Diplomat™ Pro Smart Lockers always deploys the best charged device, so students and staff have confidence that when they borrow a device it is charged and ready to use.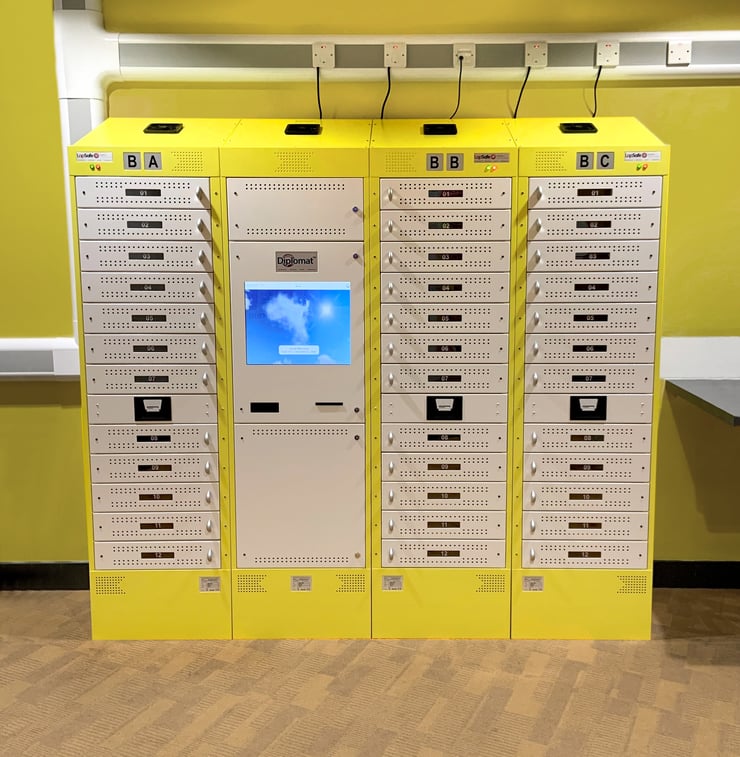 Project success
The laptop loaning service went from being an extremely labour-intensive process to being completely automated only requiring the students to bring their ID card to access the lockers. It is so easy to manage, the college have been able to grow their offering without worrying about how to manage the extra devices.
We asked Erika who has benefited the most since using the smart lockers, the students, or the staff? Erika replied:
"The benefits have been twofold, the students have enjoyed having a level of autonomy in getting devices for themselves, and it encourages them to always have their student ID cards with them.
Staff have benefited by always having access to devices for their classwork, and the library staff benefit with their time freed up to support learner enquiries at the desk rather than continuously issuing laptops."
We also asked if the implementation of the Smart Lockers has changed the way students and staff interact?
"The changes have been positive for teaching staff in freeing them up from worrying about getting devices for their lessons and having enough provision for sessions. Students know it is their responsibility to get a device before they go to class if they are needed and return the devices at the end of their session.
The Smart Lockers are simple and easy to use, and students feel confident in using them. There has been very little training required to show students how to borrow items from the lockers.
The self-service lockers have proved very popular amongst the students and staff like the freedom of a locker being placed centrally for their convenience".
There are two LapSafe® Smart Locker installations within the college, one in the library and one in an open access zone. Students and staff can borrow a device from the lockers and use within the college.
Library staff can monitor the availability and usage of the devices. If devices are not returned, go missing or not plugged back into charge they are alerted and can now manage the situation quickly and easily.
We asked Erika if they will be increasing their self-service laptop loans.
"Yes 100%. We are looking at increasing our locker and laptop provision in the future. We have been incredibly pleased with how easy it was to install the equipment. It is remarkably quick and simple to monitor the usage as well. We have found the LapSafe® team to be very responsive with their customer service and resolve any problems, in most cases, the same day."