Case Study
Holy Cross College
What is the background and your role within the college?
"Originally the establishment was a school run by the Nuns of the Daughters of the Cross. Set-up in the late 1800's, Holy Cross has been a boarding school for girls, a grammar school and then in the 70's was transformed into a sixth form college. In the nineties we started offering degree courses in partnership with Liverpool Hope University and we are now Holy Cross Sixth Form College and University Centre working with a number of universities. It has a good history of education! The college buildings have been updated many times mainly because of the age of the building. The reception has been the latest refurbishment to be completed and is now a new modern space.
I have worked at the college for 26 years. I started as Deputy Librarian and about 5 years ago, I became Head of Library."
Jaqueline Ponka, Head of Library
Did you manually loan laptops from the library?
"Yes, we had 20 laptops that were held in a cabinet behind the desk here in the library, and we manually issued them out to students. They were very popular and it ended up being a very physical job as we were constantly issuing, returning, issuing, returning. There always had to be two of us on the desk because it was so busy. If we left the desk to help a student there would soon be a queue of students with laptops waiting when we returned. Manually loaning out the laptops led to constant interruptions; it was extremely time consuming and physically demanding to do manually but that was how we operated for around eight years."
Jaqueline Ponka, Head of Library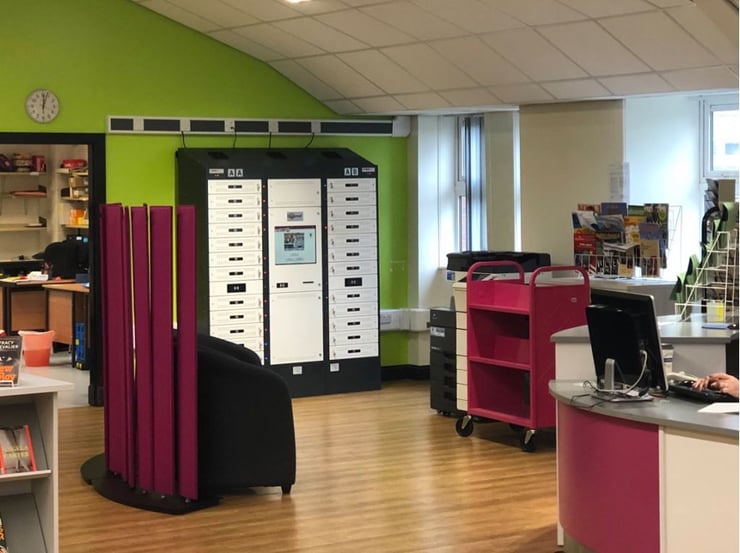 Diplomat Pro™
Where did the idea come from to finally look at automating the system?
"The Library Manager and I had been saying from early on that we would like to have a self-service unit. I attended a JISC IT event a few years back and there was a self-service unit on display. I am not sure what make it was, but I brought back the information. At the time it was too much money and we couldn't afford it.
Then last academic year we were asked if we would like a self-service laptop unit to help in the library, I of course said yes please. It is not a replacement for a member of staff by any means and we never looked at it like that, just as something that could physically help us as manually loaning the laptops was hard work. We had been asked if we could take more laptops by IT and I would say no because we couldn't cope physically. So, when we were offered the selfservice option, I snapped their hand off!"
Jaqueline Ponka, Head of Library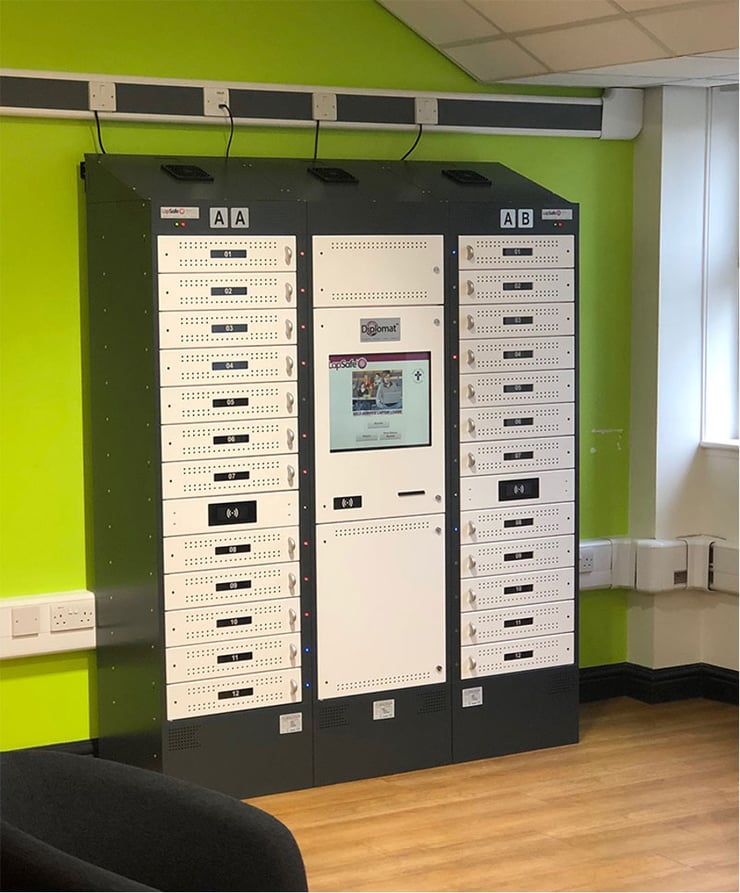 Diplomat Pro™
What was the process once it was confirmed you could go ahead and look for a solution?
"Our IT Manager attended BETT the year before and he had some LapSafe® brochures, he had looked at the Diplomat™ solution at the time. He said it looked like a really good product and it would integrate with our Heritage LMS (Library Management System), it seemed to do everything we wanted.
Once we had the financial go ahead, we dug out the brochures and had another look. My line manager asked for two quotes, so I emailed LapSafe® and another company. LapSafe® came back to me the same day, they rang me to follow up and I got a quote that week. The other company took longer to respond but I still needed two quotes, I had a look at what they had to offer.
I asked LapSafe® if they had a Diplomat™ unit nearby that I could see working, preferably a sixth form or a small FE college rather than a big university as we are very different, and they suggested Oldham Sixth Form College. I went to have a look and Corinne who runs the library there was very positive about the system. She was in fact talking about expanding their self-service further into the library itself which I thought was a really positive thing. Corinne was very complimentary about the Diplomat™ and I liked the look of it myself.
They must have realised very early on that I didn't know much about the technical side, but they were always ready to answer any of my questions, however, silly I thought they seemed.
I ended up getting quotes from LapSafe® and the other company. I think the LapSafe® quote was initially more expensive but the support package and the annual fee worked out far better.
When I was asked which one I would like to go with I said the company that obviously wants our business is LapSafe®. The initial support from LapSafe® was excellent plus the unit had everything we wanted. It connected with our LMS and ticked every box, even as far as its eco green credentials, as it stops charging when the laptops are fully charged so it doesn't waste energy."
Jaqueline Ponka, Head of Library
How was the service from order to delivery?
"It was really very good, and was fitted and installed within the time scale we required. We were quite happy to wait for half term, but were offered an earlier date which suited us very well. I had been told how long it would take from order to delivery and in fact, we were offered to have it installed a little earlier as it was ready. I did worry because we were on the top floor but I needn't have, it was all confirmed and organised well.
The two men that came and installed the unit in the library were lovely, very helpful, polite, friendly and got on with it. They tidied up after themselves and were very efficient. They arrived at 10am and had finished just after lunch.
Almost immediately I was at the library desk and thought it was strange that it had been such a quiet day, but it was because we were not being asked for laptops anymore. We had more time to actually complete our work. We all said very quickly the difference it made to all of us, we had more time to spend with
Jaqueline Ponka, Head of Library
Our relationship with the students has definitely improved.
There are no more complaints from students that there are no laptops available. Now they accept that if the Diplomat™ won't release a laptop it's because there is none available or they aren't fully charged. It's a much calmer environment for all in the library."
Could you talk us through how a student would borrow a laptop?
"The laptop loans are issued for use in the library only. Students scan their library cards at the locker unit, on the screen they are told which door will open and they swipe again to open that locker bay. As we are a Sixth Form College, most students are on a timetable, unlike universities where they can borrow devices at any time of day, so they would normally only have them for a couple of hours maximum. We are also open three evenings a week".
Jaqueline Ponka, Head of Library
Are you looking to expand the service?
"We are budgeting to add an additional tower soon and certainly would like to have more laptops available. The students would be very happy to have them. We have space for another two towers as I made sure I had room on both sides for extra towers when it was installed".
Jaqueline Ponka, Head of Library
What advice would you give to other colleges thinking of automating their laptop loaning?
"Do it! I think the main advice is just to do it if you can, it makes life so much easier.
Talk to librarians in other colleges and if you can, see it in action at a college. Talk to someone you trust in the same position as you, it helps. If you are setting it up from scratch and you don't loan out laptops already, I would say go for it straight away, rather than the route we did of manual loaning which is hard work. Think about where it is going to be placed in case it gets a little noisy as the students do chat to each other while using it. Make sure you have space for expansion as it will be popular and the students will always want more laptops.
We would be very happy to welcome colleges nearby to come and see it working here. The laptops we use here currently are Lenovo".
Jaqueline Ponka, Head of Library
Have you needed any support since the unit was installed?
"Yes, we have; it went off the weekend after it was installed which confused us. I emailed straight away and got a reply instantly and they told us what to do so it didn't impact on the students at all. Matthew and James from Support always get back to us so quickly, and their response is great.
Generally, though, it runs brilliantly and doesn't cause any problems at all".
Jaqueline Ponka, Head of Library
Would you recommend LapSafe® as a company to others?
"I have been very happy with it and would definitely recommend LapSafe® to others. It is a great company to work with and knowing that it is designed, manufactured and supported here in the UK, is really good. The workmanship shows through in the quality of the products they supply."
Jaqueline Ponka, Head of Library