Case Study
Easton & Otley College
During the 11th century, Norwich was the largest city in England after London. It remained the capital of the most populous English county until the Industrial Revolution and it now boasts art festivals, culture, and a strong community feel. Just seven miles away from the city centre is where you will find the Easton & Otley College Easton campus.
Merged in 2012, Easton College just outside Norwich and Otley College near Ipswich, came together to provide full-time, part-time, work based learning, distance learning and commercial training for students aged from 14 through to adulthood. The focus at the college is on education and training for agriculture, horticulture, arboriculture, countryside, animal studies, and equine studies. There are also strong sport, public services and foundation learning programmes.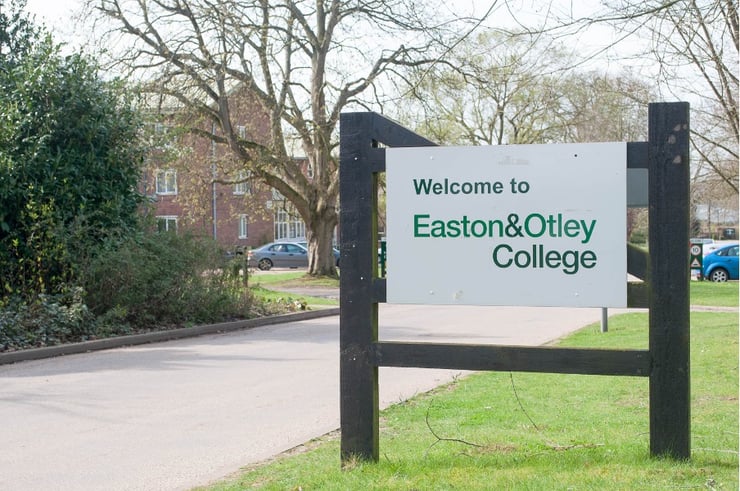 As part of a forward thinking and modern Landbased college, the Easton campus is situated in extremely beautiful countryside and the grounds are right next to the Royal Norfolk Showground. The Easton Campus Learning Resource Centre (LRC) provides library and computing facilities to the students and staff of Easton & Otley College within a supportive learning environment. It was this area that Delon Commosioung, Innovation in Learning Advisor, along with Simon Chlopas, Learning Resources Manager for Easton and Otley saw the potential to improve the facilities at the college.
Delon explains; "Part of our digital strategy is to try and increase mobile device use within the college. So, looking at our brief, I liaised with Simon to find out how things currently worked in the LRC, we then identified what we could do to make it better".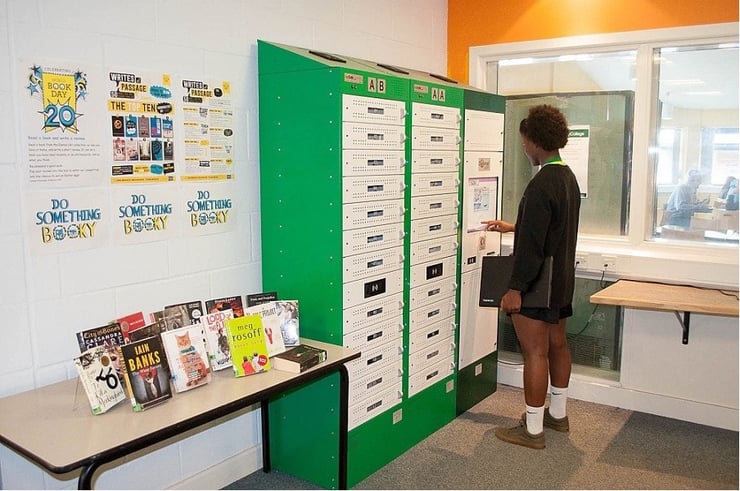 Simon added "We had piloted a laptop loan scheme for students over the last academic year. We had six laptops that could be issued from our library desk manually. This was extremely labour intensive! The devices were stored and plugged in on a couple of shelves behind the library desk - it was very cumbersome and took up a lot of space. Managing the laptops was taking up a lot of my team's time too. However, despite the haphazard nature of the trial, it was successful in one regard, as the laptops proved very popular with the students".
Delon continued "I visited Bett 2016, in London and saw three different types of products that may have worked, including LapSafe®. I asked the three providers to visit Simon and myself at the college with their products and to give us a demo so we could see how they would work for us. That day proved to be beneficial and after receiving more information on all the products, we decided to go with LapSafe®. Rob, our Account Manager at LapSafe® was very efficient and had an excellent customer touch. He put us in touch with Chesterfield College as they were using LapSafe® and were very happy with it. They let us take pictures of the units and described how it works for them and gave us some pitfalls which we were then able to avoid.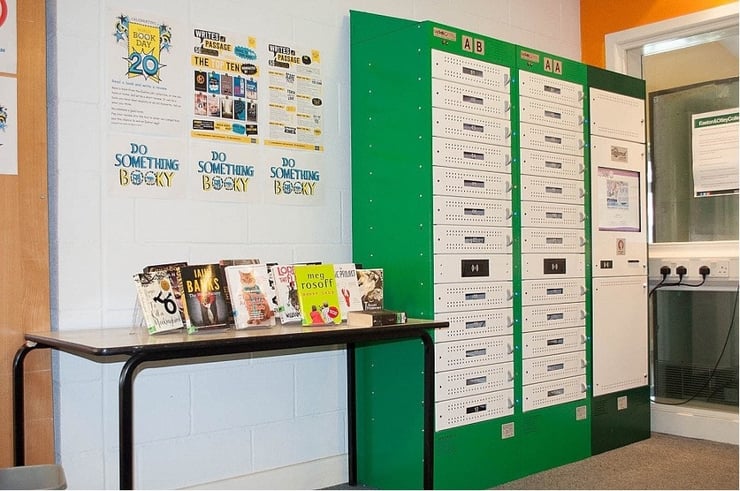 Funding for this type of project is often difficult and both explain how they secured the funding for Easton and Otley. "There was a special project launched that was looking at improvements around the college. We put together a very good proposal from the information we had gathered which included two ideas. One was to put the self-service laptop loan management system into place and the other one was to re design a learning space at Otley campus. The unit design was an important part of the purchasing process as we wanted it to fit into the college's vision of being a forward thinking, contemporary institution".
The pair go on to say "Pictures we took at Chesterfield College were added to our planning board along with our proposal, which we then presented to the panel. Both of our ideas got through the first stages which were then passed to the management team for the final decision. In April 2016, we were informed that both of our projects had been successful, so we set about implementing them. The sales process was very straight forward, and I felt I was getting the best service out of Rob at LapSafe® right from the very beginning. Everything to do with the sale was very straight forward and our questions were answered straight away".
In August 2016, a 24 Bay Diplomat LMS unit was installed in the LRC at Easton Campus and a 12 bay Diplomat LMS was installed in the library at Otley. Delon continues "There was no delay on the delivery and installation date, and we had it all planned step by step how it was going to happen and who was going to be here to help as Simon was on holiday. I met the LapSafe® installation team at both sites and everything ran smoothly. The guys were all great, they let us know beforehand what we needed to do to get the space ready. We received some basic training on the day. The installation team showed our IT staff and myself how to use the system and then we spread the word to the other staff members".
Simon added "I only have a small team of five and the basic training we received was fine and all we needed to get started. Our new students are all introduced to the Diplomat™LMS unit as part of their LRC induction at the beginning of term - they are shown how easy it is to borrow and return a device and we explain what our terms of use are".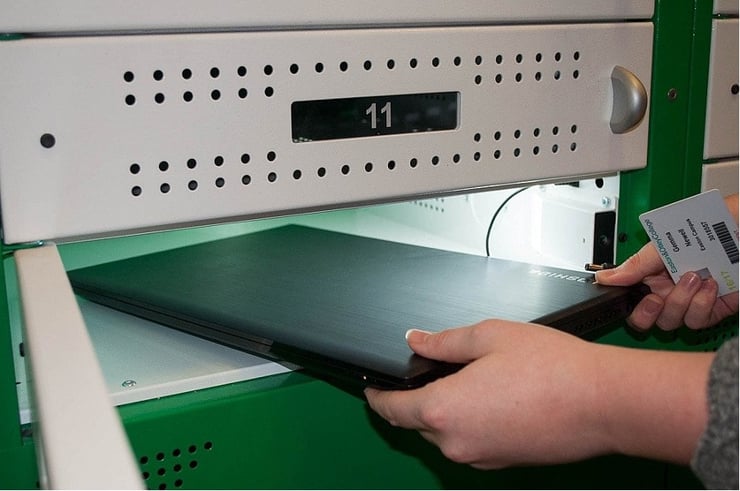 Simon explains how the service has enhanced the student study experience, "The LapSafe® units are so easy to use and, alongside the mobility of laptops, it has opened up new ways of learning for some of our students. Our users are no longer restricted to sitting at desktops, and are free to work independently or collaboratively in one of the college's many study spaces. We set a laptop loan limit of two hours, but made a conscious decision not to restrict them to library use only.
They are often borrowed and taken into the café next door where we see a lot of social and group learning taking place. We haven't lost any laptops and we haven't even had any dropped or damaged. The students have really embraced the laptop service and have been encouragingly conscientious when using them. The LapSafe® units seem suitably robust too. Some of our students tend to shut the doors quite forcefully, but the equipment shows no sign of wear and tear".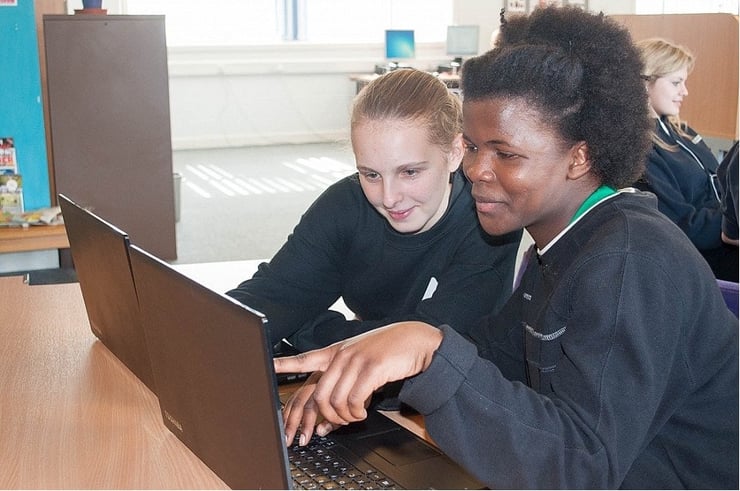 Both Delon and Simon have expressed a keen interest in increasing their laptop loans service if funding becomes available, and they may also be looking to include some BYOD (bring your own device) charging lockers so students have the flexibility to charge their own personal devices securely and safely while studying.
Both conclude "the system works really well and offer the following two pieces of advice to any colleges looking to automate, or introduce a laptop loan service:
Visit other schools, colleges or universities near you that are already using the system, we would welcome any establishment to come here and see how ours work for us.
Get your students voice! Before we decided what we were going to do we surveyed our Student Council and asked for their feedback. One of the top requests was for more laptops. As it was part of our digital strategy to increase mobility, it was definitely the right route for us to take.
'CONNECT, WORK, SHARE' is at the heart of our digital strategy and increasing mobility is integral to this so the laptop loan automated service sat nicely in the direction that we wanted to go."