Case Study
Borders College
Overview
Borders College is located in the Scottish Borders and offers a wide range of courses. As a result of a multi-million-pound ground-breaking project, the Scottish Borders Campus provides a unique learning and teaching environment featuring practical training areas, a well-stocked library and learning resource centre and enhanced IT facilities alongside bright and spacious student areas.
In October 2018, Head of ISLT, Scott Moncrieff joined Borders College having had 25 years in the IT industry behind him. Scott and his team had been tasked with improving the IT facilities for students as the college strategy was to move towards more online content for students.
Vision
Not long after Scott started at Borders College, he discussed with the Senior Leadership Team about replacing the ageing desktops computers in the classrooms as they were becoming 'end of life'. The college wanted to move towards publishing more of the curriculum content online and offering courses remotely, so students didn't need to visit the college as often (this was well before the start of the Covid Pandemic). The college already provided laptops to bursary funded students to assist them with their learning. This helps those who perhaps don't have access to laptops and would ensure they wouldn't be disadvantaged.
"We have a few traditional laptop lockers in some classrooms, but these are not available to everybody. This is why we thought we would look at self-service laptop loaning lockers"
Scott Moncrieff, Head of ISLT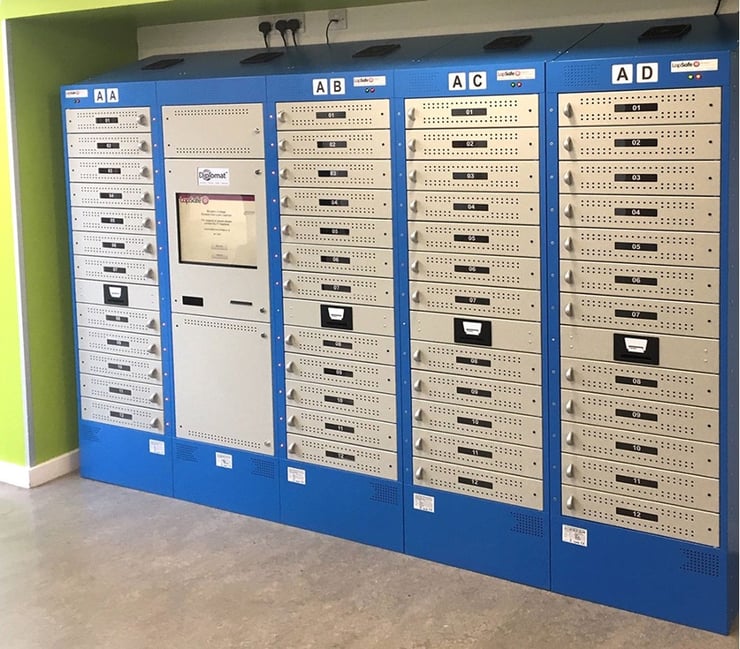 Diplomat™ Pro
Approach
Together with a colleague, Scott visited The BETT Show in London in January 2019. They spent the day visiting the stands and chatted to a couple of vendors, one of which was LapSafe® and had various demonstrations.
"We did that with two or three different self-service laptop loan companies. Once we had seen them all, the LapSafe® lockers came head and shoulders above the rest in terms of how easy it was to use. It looked really intuitive and would be easy for our students to use.
We were also amazed and pleased to see how aesthetically pleasing they looked; it looked so much nicer than all the rest, and we were really sold at this point. I think it's tough to make a big tin box look attractive, but this looked really nicely designed compared to the others. We were able to customise it with our branding and choose our own college colours which was a huge attraction. The price point was slightly higher than most, but we felt it was worthwhile because of the look, quality and ease of use for our students".
Scott Moncrieff, Head of ISLT
After seeing the Bett show's lockers, Scott was able to visit Heriot Watt University, who had already installed the LapSafe® Diplomat™ Pro lockers, so he could not only see them in use but also talk to his counterpart about how easy they worked and if there were any problems which was helpful in the final decision making.
Whilst at Heriot Watt University, Scott was also able to view the admin side of the Diplomat™ Pro for reporting and usability which he felt was straightforward to understand and which would give them the ability to have a screen situated near the lockers to display to students what laptops were available to loan.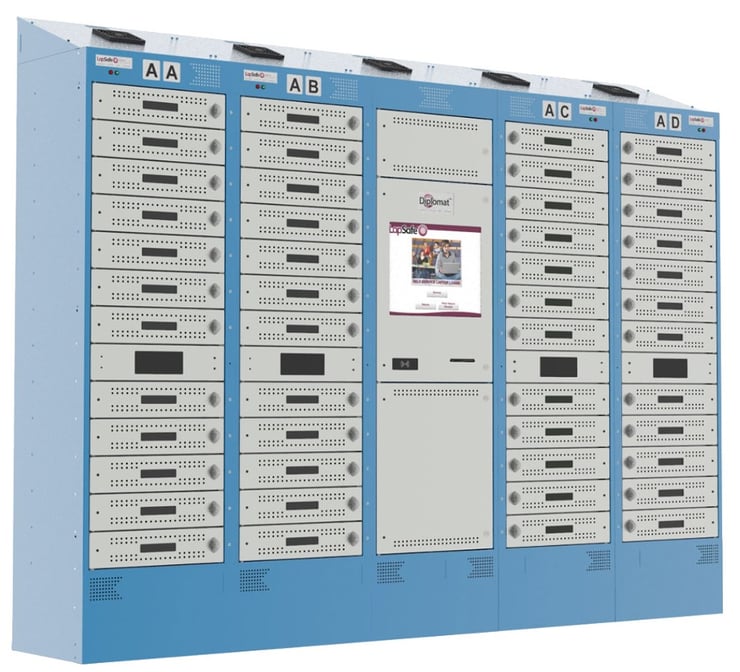 Diplomat™ Pro
Strategy
The LapSafe® installation team liaised with Borders College prior to the installation and describing the installation process.
"Receiving all the necessary information before the actual installation allowed our facilities team to make sure the area we had chosen to place the units was suitable and the correct size. Having the details about where the power went into the lockers helped us to ensure our sockets were installed in the correct location.
The first unit was installed in our main campus and was situated in the main reception area, any student could come up and borrow a laptop at any time of the day. They can then use it throughout the day but must return it to the unit by the time the campus closed at 8.45pm. So as long as it is brought back by then, they wouldn't receive a library return notice.
Overall, the experience was excellent, and our account manager, Ben was fantastic from start to finish. He kept us up-to-date with regard to where in the process the order was. When it came to doing the branding, he was accommodating in working with our marketing team to ensure that the colours were correct. Even now Ben keeps in touch with us to keep us aware of any new innovations and software upgrades. The college is really interested in the 'NEW UV-C sanitising station that is being launched by LapSafe® soon'."
Scott Moncrieff, Head of ISLT
Results to Date
From when the unit was installed in September 2019 until the first COVID lockdown in March 2020 Scott was happy to share that the units were working really well and they had received excellent feedback from both students and staff, which allowed them to purchase a second installation for their other campus. This was installed during the summer of 2020 in the mist of the pandemic. LapSafe® followed all COVID government guidelines ensuring that both the college and LapSafe® team were kept safe throughout the installation.
Unfortunately, due to the two lockdowns, the units haven't really been used by students since March 2020 as the college has been either open with certain restrictions or closed completely.
Now that the COVID restrictions are starting to lift for colleges, Borders will soon be able to reopen and welcome students back onto the campus in the hope that the Diplomat® lockers will be in full use by the new academic year.
Conclusion
We feel our move to self-service has been a success and it has helped us achieve our objective of providing devices to as many students as possible to allow them to access learning material and all students have access to a fully charged device when required.My counterpart at Dumfries and Galloway College got in touch recently to say they were looking at introducing the system. I asked if they wanted to come over and see ours in action, which they did. (Ben has recently been in touch and myself and Argyll College have arranged a meeting to discuss)