Article
The best universities are using LapSafe®

Times Higher Education rankings.
Times Higher Education annually rank over 1,600 universities globally. Each university is 'ranked based on: Teaching, research, knowledge and international outlook'. For over 20 years LapSafe® have worked with some of the top 100 universities in the world.
The 2022 rankings are in!
In 2022 11 of the top 100 universities are in the UK, within those 11, seven universities use LapSafe® products in their campuses. We have over 650 global installations, there are six Australian universities in the Times Higher Education top 100, and of those LapSafe are in three! We are constantly growing and assisting universities to improve their student services. University Business say that students choose their university based on various elements: One of which is the facilities universities have, such as library equipment. LapSafe® can help your university climb the rankings through our lockers and trolleys.
The Student Crowd rank UK Universities based on facilities.
The student crowd analyse student reviews, to assist future students on deciding their university of choice. They have ranked universities based on their facilities to help students get the best out of their university experience. Out of the top 20 best UK universities based on facilities LapSafe® work with eight of them! Highlighting the happiness LapSafe® brings to students globally bringing 'high-tech innovative libraries' to their universities.
The Guardian rank the best UK Universities 2022
The Guardian rank universities based on how the students feel about their university. Some of the most important elements that contribute to students' feelings are student satisfaction and teaching quality. Student satisfaction is vital for maintaining your universities reputation, therefore getting the best facilities for your students is key!
Out of the Guardians ranking of top 100 universities, LapSafe® work with 55 of them, nine of which are in the top 20.
LapSafe in Universities
Did you know 94% of UK Universities that have self-service lockers use LapSafe®? LapSafe® smart lockers are the most sophisticated and intelligent self-service locker system available on the market today. The Diplomat™ loans devices or lockers 24 x 7.
LapSafe® are constantly growing and help universities change student experience for the better. Our innovative products give students the freedom to get the best out of their studies and enjoy their academic experience. The Guardian ranked Birmingham City as a top 100 university. We carried out a case study to understand how our products are improving their student services.
'Students really love the self-service laptop loans and there has been such a high demand for it across the campus' Paul Davis, IT Quality Manager.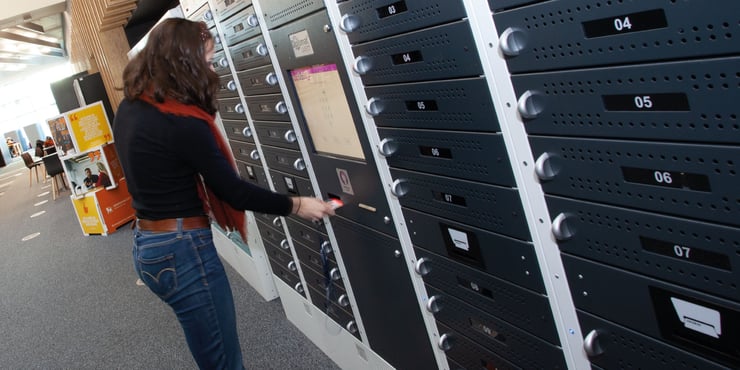 The Guardian ranked Manchester Metropolitan universityin the top 100, and student crowd ranked them 15th for their facilities! With a special mention to the 'universities high tech five-storey library' demonstrating the appreciation students have for the available services. We also created a case study with Manchester Metropolitan. The IT professional at Manchester Metropolitan commented 'I highly recommend any university to go down this self-service route with LapSafe®' portraying how LapSafe® is loved by staff and students!
See what contributed to choosing LapSafe® and more about the success it has had at their university.