Case Study
Manchester Metropolitan University
In early 2014 a team of aspiring leaders from the IT services staff at Manchester Metropolitan University (MMU) gathered together to developideas within the remit of improving IT services for students at the university. Following months of research, the team of candidates were then asked to present each of their projects to a panel headed up by the MMU Vice Chancellor, Professor John Brooks. One of the successful projects chosen was led by Chris Haines, IT Professional at MMU. Chris's idea was to introduce a new 24 hour, self-service laptop loan service using secure lockers in key locations across MMU.
The university already offered a seven-day laptop loan service from a loan desk in another part of the university, which is always busy. So this new automated service was to ease the pressure and to complement that service, with the potential to roll out across MMU.
Chris explains, "I felt we needed to have a 24 hour, 365-day laptop loan service situated in the library that was completely automated, so students could do it themselves. We also required it to integrate with MMU's Library Management System (LMS), Capita, so that we could track the laptops to the students like we do with our books".
After previously visiting the Bett Show, the UK's largest education exhibition with over 700 education suppliers under one roof, Chris decided this would be the best place to start shopping around for what he was looking for.
Chris said, "Myself and a colleague went to the Bett Show with the intention of visiting the LapSafe® stand and two other suppliers who had similar products. After talking to each company and watching demonstrations, it seemed that the LapSafe® Diplomat™ LMS did exactly what we were looking for. It was a little more expensive than other similar locker systems but none of the others had the quality or the full functionality that the LapSafe® Diplomat™ LMS offered. It didn't come down to money in the end, it came down to the fact that LapSafe® were ahead in not only the quality of the lockers but the advanced technology they were offering too".
MMU took delivery of their new 36 bay Diplomat™ LMS in the summer of 2014 and had a small window of time in which they needed the product to be delivered due to planned holidays. Chris explains, "Rob, our Account Manager worked really hard to get it here on time. Delivery was great, timing was great and I couldn't fault the work of the friendly and helpful guys that were installing it".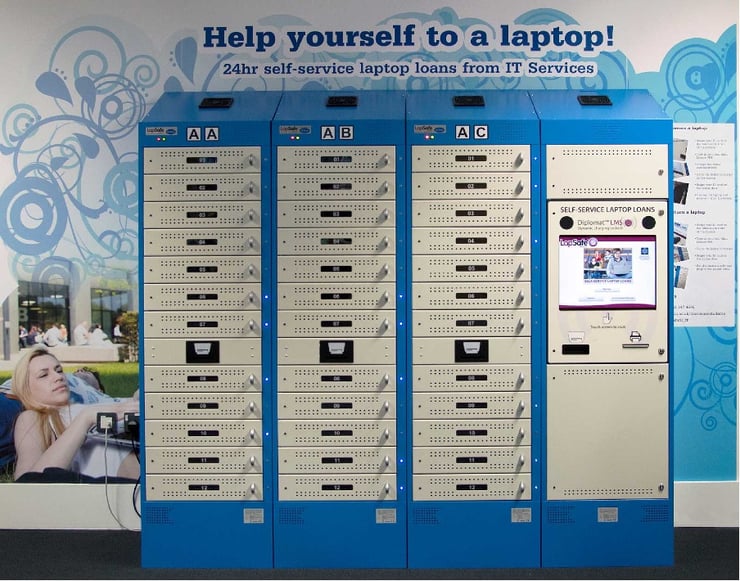 Chris continued, "We installed the Diplomat™ LMS self-service lockers in the Sir Kenneth Green Library here at MMU. We launched a pilot scheme in September 2014 offering a 24/ 7, 365-day laptop loan service to our students. When the pilot scheme finished in January 2015 our reports showed that we had loaned out just over 8,000 laptops in the four month trial period; that worked out that about 500 of our Toshiba 15 inch laptops were loaned out per week from the 36 locker bays. We conducted a survey recently to 1,200 students here at MMU and the feedback on the Diplomat™ LMS was great. 92% of the students said that it was easy to use and 90% said they would recommend it to their friends and to other universities looking to implement the same kind of thing".
 Chris concluded, "I would highly recommend any university to go down this self-service route with LapSafe®. When I was researching my project I wanted to be able to talk to other universities that had already been through the journey of setting something like this and Lapsafe® supported me by answering my questions and putting me in touch with other universities already using this system. Since installing our own Diplomat™ LMS here at MMU we have welcomed IT professionals from five other universities around the UK to see it in action"