The ClassBuddy™ Trolleys
The ClassBuddy™ offers an unrivalled and cost effective solution to store, charge and even update or synchronise your devices. Its unique power management incorporates soft-start, surge and residual voltage protection as STANDARD. Safe simultaneous charging of all stored devices and easy access is guaranteed via the neat AC adaptor cable management.
So much more than just a trolley...
Laptops, Chromebooks, Microsoft Surface, tablets and netbooks are all charged using their own AC adaptors or USB cables which are kept neat and tidy with a simple and effective cable management system.
The ClassBuddy's ultra-safe power management provides safe simultaneous charging of all devices with quick and easy access. The power management system incorporates three key areas of protection, soft-start, surge, and residual voltage, these provide the highest level of protection for the user, your equipment and electrical circuits.
Each trolley is naturally ventilated, allowing air to flow through ventilation holes in the base and shelves and out through the top rear apertures. If using the data transfer option a temperature controlled fan is added to ensure optimum charging temperature.
Recessed handles give the ClassBuddy™ a smooth exterior whilst manoeuvrability is achieved with high quality castors which give 360° movement. Two of the castors are braked for stability and lock the trolley into position.
Security is provided through the cabinet's part-welded steel construction, piano style hinges and locking mechanisms. There is a rear service door with unique keys for technical staff access only.
The ClassBuddy™ range is available in four different sized trolleys with various optional extras such as wireless access point (RAP), data transfer, timer and docking station.
The range offers 'Charge Only' or 'Charge & Sync' trolleys.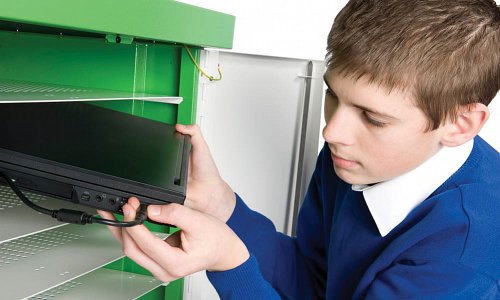 'Charge Only'
The ClassBuddy™ 'Charge Only' range can store and charge up to 8, 15, 20 or 30 laptops or up to 16 or 30 tablets or netbooks. All devices charge simultaneously in the fastest possible time using their own AC adaptors. Safe power management comes as STANDARD.
Optional extras include data transfer which includes thermostatically controlled fan (laptops/netbook carts only), wireless access point, timer and docking station.
Store and charge up to 15, 20, 30 laptops or 16, 30 tablets or similar
Ultra-safe power management
Simultaneous charging of all devices
Uses devices own AC adaptors
Neat cable management system
Mix and match devices in the same trolley
Suitable for all makes and model of device
Wide shelves can accommodates large ruggedised cases such as Griffin, Gumdrop and Otterbox
Instant retrieval of 'ready to use' devices
Lifetime warranty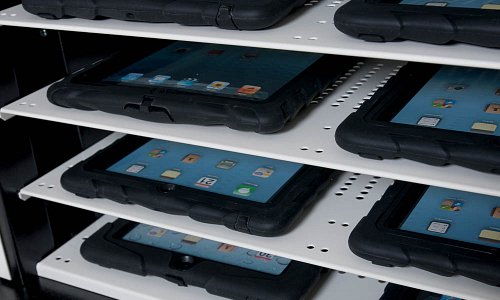 'Charge & Sync'
The ClassBuddy™ 'Charge & Sync' range comes in two different sized trolleys accommodating up to 16 or 30 tablets. All devices are charged at full rate and synchronised using their own USB cables which fit neatly into the cable management system.
iPads can be synchronised to iTunes, Apple Configurator or most third party applications via a host MacBook or laptop. Other tablets can be synchronised by using 'drag and drop' or third party applications (check software with your vendor). Safe power management comes as STANDARD.
Accommodates up to 16 or 30 tablets
Simultaneous charging and synchronisation of all devices
Full rate charging
External USB and power connectivity for host device
'Sync and charge', 'charge and sync' or auto cycles
Neat cable management
Accommodates large ruggedised cases such as Griffin, Gumdrop and Otterbox
Instant retrieval of 'ready to use' devices
Manoeuvrable with small footprint
Safe storage and charging
Optional extra – docking station, radio access point
Lifetime Warranty
Data Transfer
Facilitates simultaneous updating of all laptops stored within the charging trolley. Additional thermostatically controlled fan is added*.
Store & Charge Range Only
Requires network connectivity
Timer
A 20 segment, 7 day digital timer can be factory fitted to the ClassBuddy™. Easy to use, the timer can be set so devices are charged at a set time e.g. at night to benefit from cheap rate energy tariffs
WAP
Turns the ClassBuddy™ into a wireless network point
Docking Station
This factory or retro fitted additional option locks the ClassBuddy™ to a wall, further enhancing security.
The ClassBuddy Trolley Family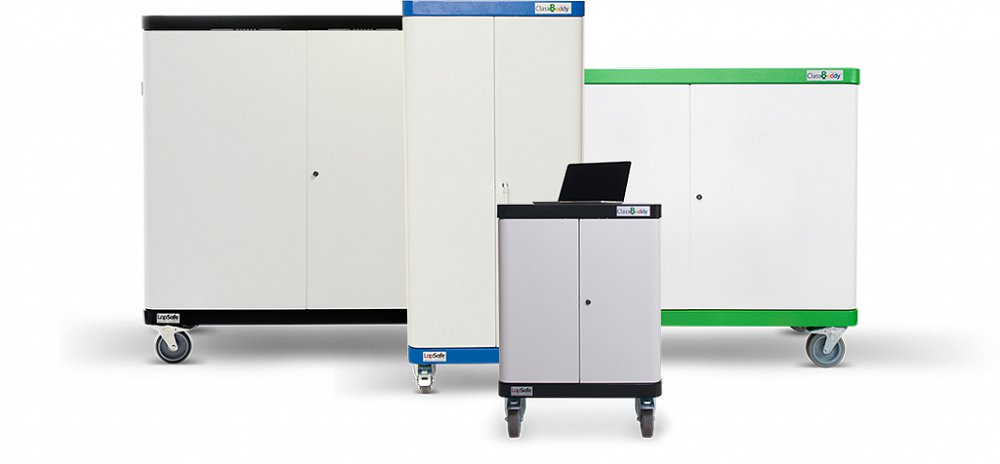 | Product Name | Width | Depth | Height | Weight |
| --- | --- | --- | --- | --- |
| ClassBuddy™ Laptop 8 | 590mm | 590mm | 835mm | 80kg |
| ClassBuddy™ Laptop 15 | 590mm | 590mm | 1284mm | 100kg |
| ClassBuddy™ Laptop 20 | 1108mm | 590mm | 980mm | 118kg |
| ClassBuddy™ Laptop 30 | 1108mm | 590mm | 1324mm | 159kg |
| ClassBuddy™ Tablet 16 | 590mm | 590mm | 835mm | 80kg |
| ClassBuddy™ Tablet 30 | 590mm | 590mm | 1284mm | 100kg |
| ClassBuddy™ Charge & Sync 16 | 590mm | 590mm | 835mm | 80kg |
| ClassBuddy™ Charge & Sync 30 | 590mm | 590mm | 1284mm | 100kg |