Article
What To Consider When Buying A Charging Solution

Thinking of introducing multiple devices such as laptops, Chromebooks or tablets into the classroom?
Buying a trolley or cabinet to keep them safe and charged is simple, right?
Maybe not so simple after all! let's go through some questions to make things a bit easier.
Over the years numerous charging solutions have flooded into the marketplace, so working out which will meet your needs and offer true value for money can be a real headache.
It can be tempting to take the easy option and buy the cheapest - but as we all know; cheap is not always the best!
So before you rush into a decision, here are a few points to think about.
Where to Start?
How will students use the devices?
Do you need to share the devices between classrooms? Will the devices need to be taken outdoors? How will you keep them secure when not in use? Are students going to bring in their own devices or borrow the ones you provide?
What about staff?
Give some thought to your ICT Technician, how will they manage updates and downloads? Will tablets need to be synchronised? Do you need data transfer capability to network laptops? More importantly, who is going to manage these devices?
What's on the market?
Across the marketplace there is a wide variety of solutions being offered from mobile trolleys, fixed wall cabinets, desk cabinets and self-service loan lockers. Most offer storage and charging for a range of devices and can cater for multiple devices.
Something more?
For loaning out devices or individual charging bays there are a range of intelligent lockers. These can be integrated with library management systems to loan a device, similar to loaning a library book. This solution can work really well for students borrowing a device for a short period of time, and requires little to no contact with staff.
Setting a Budget
Once you have decided upon your preferred option, be it mobile or fixed you need obviously to set a budget. When making this decision consider the product's life cycle and longevity. Do you really want to buy cheap and then buy again in a year's time? Would it better to choose a solution that can be upgraded as your needs change i.e. as you refresh your devices.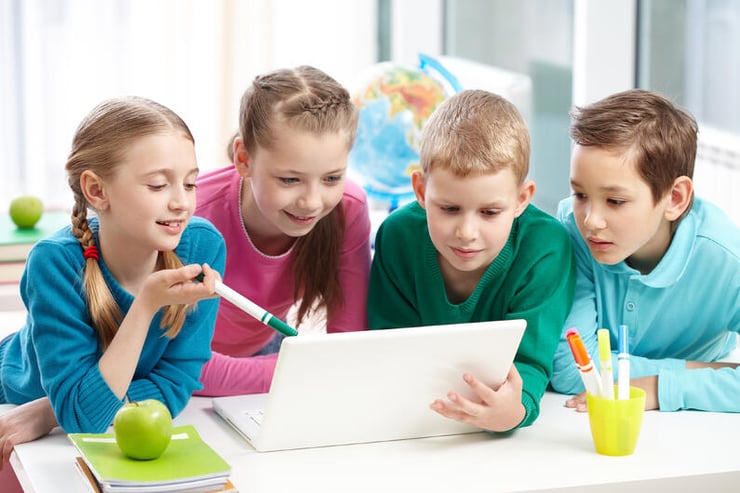 What's next?
Once you know what you need from your charing and storage solution it's time to look at the options. Here are our top tips for getting the best out of your unit...
Safety First
Does the laptop/tablet charging solution meet all of the British Health & Safety electrical standards and also meet HSE Safety guidelines?
Has it been tested for compliance by an independent body in the UK? Is it CE Certified? (Some trolley manufacturers self-certify).
Look for a solution that has safe power management as standard. Some trolleys have this as an option; safety should NEVER be an option.
Does the laptop/tablet trolley come with load protection (also known as 'soft-start' protection) as STANDARD, to ensure it does not trip circuit breakers when fully loaded?
Does the laptop/tablet trolley have surge protection, to ensure laptops aren't damaged by any sudden fluctuations in electricity?
Fit For Purpose
If you are using a data transfer function, is additional cooling provided with the unit to prevent overheating?
Most trolleys come with various extras ranging from built-in 7 day timers, built in printers, network connectivity and data transfer.
When choosing a solution for tablets such as iPads ensure the solution will accommodate them in their protective cases.
Charging
A great way to save time in the classroom is to purchase a solution with fully integrated charging. This means in-built charging leads are made to match your specific device, so there is no need for AC adaptors. Some integrated charging also shuts down the power after devices become fully charged to save energy and reduce carbon footprint.
Look for a trolley that charges all devices simultaneously and charges in the fastest possible time. Avoid trolleys which use 'round robin' charging, this only charges a few at a time or it limits the amount of charge to each device before moving on to the next. Do you need to accommodate several different devices in one place, or let students use their own devices? Some trolleys allow you to 'mix and match' devices in one trolley or cabinet. Choose an option with easy cable management, where AC adaptors are stored safely out of the way.
Security
For security choose a solution that comes fully assembled and is made of a fully welded steel chassis. Avoid units with weak points such as plastic mouldings, or wooden panels or doors.
Some charging solutions come with enhanced security features such as built-in alarm, twin locking doors, high security keys and anti-drill locks. Additional features can include reinforced steel and anti-jemmy plates at risk points, to help protect against opportunist theft.
Does the laptop/tablet trolley have separate keys to unlock the front and back doors, for enhanced security and student safety?
Security loops to chain the trolley to the floor can give extra protection or choose a trolley with a docking station.
Automating your manual loans
If you are thinking of automating your manual device loans then look for lockers which loan the 'best-charged' device and simultaneous charging. If the locker system integrates with the library management system, then it can loan the device just like a library book.
Final Thoughts
The number ONE piece of advice?
Lastly, the number one tip from our customers is - before you buy ask for a demonstration or visit a reference site. Talk to others about what what worked for them.
Remember...
You can spend a lot of time choosing the right devices. So take care when deciding on how to keep them safe, secure and fully charged. Consider how to protect your investment.
Security is important as the loss of devices due to theft can be heartbreaking to both the school and the students, not to mention the loss of valuable teaching time