Article
More & more patients are using Smart Lockers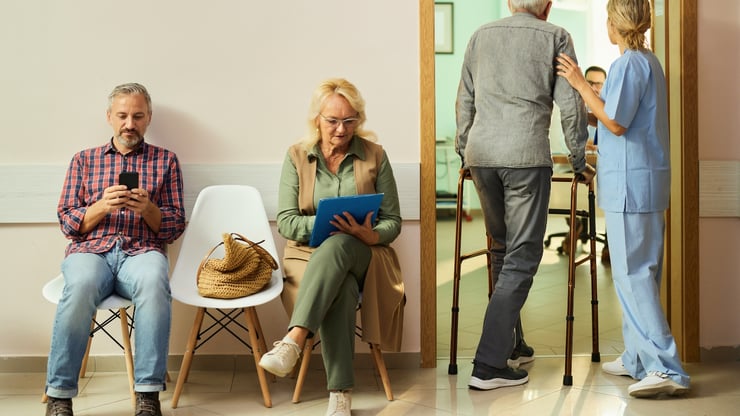 As Smart Lockers quickly become a vital component in managing and maintaining healthcare devices, we've seen an increasing number of hospital patients benefit from these self-service solutions too.
Securing Personal Belongings
Patients can take advantage of these multi-purpose terminals by using them as hot lockers to store their personal belongings during hospital stays.
Over the years it has become a known fact not to bring anything valuable with you during in-patient procedures; there are numerous people in and out of a ward, including multiple healthcare professionals, other patients, and patient visitors. With nowhere to safely secure valuable belongings, whether that be a mobile phone, tablet, or even jewellery, with that amount of people coming and going, it's no wonder we have all grown wary of what we take with us.
A hot locker, with charging facilities, has proven to be the simplest solution. Patients can select a vacant locker and secure their belongings with a simple keycode. This automatically reassures the patient and helps them to relax during their stay.
The installed charging leads allow devices to be charged whilst locked away, so when the patient returns, they don't have to worry about a low battery.
Outpatients can also benefit from hot lockers; anything the patient doesn't need to carry around the hospital with them can be safely stored until they're ready to leave.
Distributing Prescriptions
I think we can all agree that the distribution of prescriptions is a long, slow process; The pharmacist is rushing around trying to reduce the size of the queue, and the patients are sighing at the amount of time they've been waiting.
Alongside this, hospital pharmacists haven't been able to provide patients with a seamless discharge process; patients can get discharged at any hour; however, the pharmacist isn't open 24/7, meaning should the patient need to pick up a prescription, they will have to either wait for the pharmacy to reopen or return the next day.
These lockers provide the perfect solution for both parties. An easy drop-off/collect service allows pharmacists to prepare prescriptions ahead of time and leave the medication in a secure locker, the patient then receives a locker code to collect their prescription. Providing a more organised, seamless operation with no long queues or a stressed pharmacist.
Loaning of Equipment & Devices
Self-service has become a normal operation in our modern world, you'll see this service available at superstores, gas pumps, and even airports. The results have proven to provide a more efficient and seamless process.
Hospitals shouldn't be any different when it comes to looking at smarter technology to improve services. Smart Lockers provide a self-service option for patients to loan medical equipment, such as blood pressure machines, heart monitors, and glucose monitors; patients simply go to the designated Smart Locker, enter the security code, and the device is free to use. Once the patient has finished testing, the device can then be returned to the locker ready for the next patient.
Not only does this process benefit the patient by speeding up the process, but it also frees the valuable time of healthcare professionals.
As well as loaning medical equipment, devices such as tablets and iPads, can also be loaned. This gives outpatients and/or their relatives the opportunity to stay connected with the outside world whilst waiting to be seen.
A full audit trail of devices and equipment is available, so the monitoring of loaned equipment is easily managed.
Transfer of paperwork and personal documents.
There are several documents a patient will have to either bring with them or fill out during their hospital visit, from admission forms and discharge forms to personal information and lists of current medication.
Due to the fast-paced, busy schedule of a healthcare professional, a simple exchange of paperwork can sometimes be challenging and time-consuming.
Fortunately, Smart Lockers can be used for this service. A patient can be sent an email/text informing them of their unique keycode and which locker to leave/collect their documents. This saves patient waiting time and reduces an admin task at the same time.
When investing in healthcare technology, a Smart Locker solution with its multiple uses, can play a pivotal role within the organisation. The results of installing a Smart Locker mean fewer manned processes and more self-service solutions, more organised operations and fewer queues, and more security for patients and fewer anxious patients.
Our most sophisticated Smart Locker is the Diplomat™ Pro, the only all-in-one Smart Locker solution that offers loaning of assets, drop off and collect, IT break/fix and Hot lockers.
The Diplomat™ Pro is a total locker solution that uses our cloud-based management platform ONARKEN®, which boasts full integration with any NHS software platform, such as Freshservice®, Papercut®, and Paxton®. ONARKEN® can deliver a seamless and fully automated service saving both time and money.
Click here for more information on Diplomat® Pro
Alternatively, if you wish to speak to one of our friendly team members, contact us today!