Article
Hopwood Hall College & University Centre

Hopwood Hall is on the cutting edge when it comes to using Smart Lockers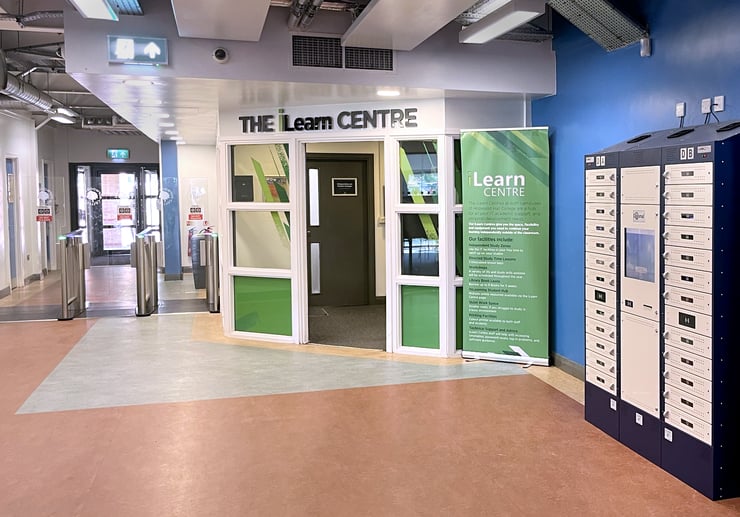 Since having the Lapsafe® Diplomat™ Pro installed within the campus earlier this year, Hopwood Hall has experienced an array of benefits from these self-service solutions. So much so that the campus now sees its future as becoming more 'smart.'
Here, our Marketing Executive, Elliott Bibby, meets with the college's Head of Quality, Ashley Austin, to discuss how they have been getting on with their terminals.
What benefits has the Diplomat™ Pro brought to the college?
Deployment of Kits
"At the start of each academic year, we issue a lot of kits, which include boots, trousers, tops etc. Previously, we would have many students queuing outside of reception to pick these up. To speed up this process we now issue these through a click-n-collect service using the lockers. It saves on time and staffing."
Handing in Assignments
"We have classes that take place at night, and although we have skeleton staff during this time, there are occasions when we have more learners on campus than staff. We use the lockers to provide a drop-off service, where students can drop off their assignments, and the recipient will get notified when it is ready to be collected. This creates a lot of flexibility."
Loaning Devices
"We loan laptops out to students on a term-by-term basis."
"As a collective team, and as a digital team, we have decided that laptops are the way to go. It is easier, we can utilise them as much as we want, and obviously, it doesn't involve much space."
"The opportunity to deploy assets to learners who technically are socially deprived or economically deprived, it gives them the ability to study using equipment at home."
"Our Creative Arts and Media department over at our Rochdale campus use their terminals to deploy cameras, tripods, laptops, all kinds of various things."
What benefits has the Diplomat™ Pro brought to the students?
Flexibility and Freedom
"Learners now head straight to a terminal, scan out a laptop, and comfortably study wherever they want. Students will sit on the benches we have built along the sides, while others will sit with a cushion at the window with a device on their laps. Rather than sitting at a fixed computer, this setup allows flexibility with space and creates familiarity with how they would work if they were studying at home."
Practicality and Comfortability
"Learners no longer need to carry bulky equipment and devices around with them. They can come to their place of work, use the terminals to check out what they need, and once finished, they can simply check them back in. This setup is becoming quite popular within the businesses we work with, and that is exactly what we wanted to steer towards."
Smart Working
"We are now able to deploy assets, unmanned and unstaffed, and track them through LapSafe®'s Onarken® platform. The library team does not have to manually go through our system "here is your laptop", we can set it up, send them an email, and they come to collect it. Once the asset has been returned, we then get a notification. It is a straightforward process which eases staff workload."
What future do you have relating to the Smart Lockers?
"We're now talking about eradicating laptop trolleys, and even computer rooms to a degree. So, we have a system like the Diplomat on every single floor with as many towers as you can get."
"We would like to start doing loans on a bigger scale, for example, a technician who works within our construction department, can leave tools for learners who are going out on a work experience placement."
It is fantastic to hear how the staff and students at Hopwood Hall are using the Smart Lockers to their full potential, and how they plan to expand their units to fulfil a more flexible and efficient environment.
A full case study from Hopwood Hall College & University Centre is coming soon!