Traveller eMini
The Traveller™ eMini provides a compact, portable and easy way to store, charge and transport up to 16 devices such as the Amazon Kindle, Kobo, Sony PRS-T3 and the iPad Mini. (Not suitable for the Kindle HD)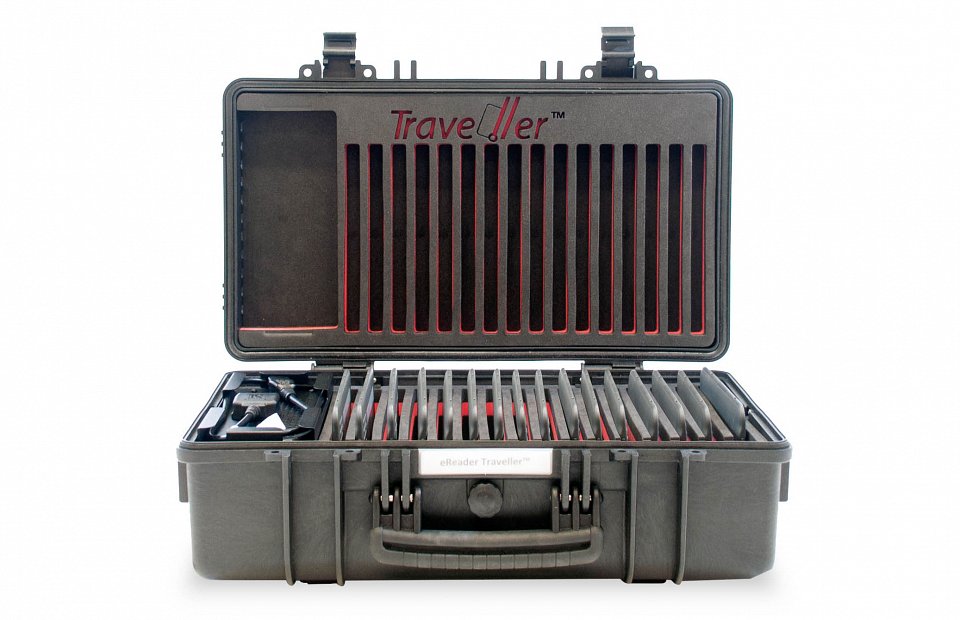 The Traveller™ eMini provides a compact, portable and easy way to charge and transport devices such as the Amazon Kindle, Kobo, Sony eReaders and or iPad Mini.*
The lightweight and portable case features one top carry handle, and comes with an optional shoulder strap for ease of carrying. The case has protective inner foam slots to prevent movement when transporting the devices.
Built in charging cables allow quick and easy setup, the case is compatible with either mini or micro USB charging and charges all devices simultaneously. For iPad Mini, USB charging cables can be built in but users must supply.
LapSafe®'s ultra-safe power management system keeps both users and devices safe at all times.
*not suitable for the Kindle HD – see Traveller™ Slim
Stores and charges up to 16 eReaders (Amazon Kindle, Kobo etc) or 7" tablets and iPad Mini
Built-in charging cables for quick set-up (user supplied)
Fully ventilated with a fan
Protective inner foam for individual devices
Lockable with user's own padlocks
Effective cable management
Supplied with one-metre mains lead with a 5 amp fuse
Lifetime Warranty
Traveller eMini Dimensions
| Product Name | Width | Depth | Height | Weight |
| --- | --- | --- | --- | --- |
| Traveller eMini | 546mm | 347mm | 197mm | 12kg |