Solo Plus +
The Solo Plus+™ is the perfect storage and charging solution for SMEs or remote office/classroom locations where space is limited. The Solo Plus+™ will store and charge up to 5 laptops or 10 netbooks, tablets or similar devices. Can be secured to desk or floor and stacked up to two high.
In situations where a small number of devices need to be stored and charged in a single, secure cabinet at a fixed position, the Solo™ Plus + provides the ideal solution.
The Solo™ Plus + can hold up to 5 laptops, 10 tablets/netbooks or similar devices. The unit is fitted with either ChargeLine™, which charges using the devices' own AC adaptors, our unique SmartLine™ with PowaSave™ which features built-in power cables specific to the make and model of laptop/netbook being stored, orUSB charging ports.
The Solo™ Plus + is constructed of fully welded steel and features a high security locking door. This cabinet can be modified to fit bespoke furniture, can be surface mounted to a suitable desk or work surface, or stacked to a height of two using suitable fixing plates.
IT technicians are familiar with the headaches caused by trying to transfer data or carry out upgrades to multiple laptops. The optional Data Transfer Module allows IT technicians to easily and remotely update all laptops inside the cabinet whilst they are charging. Existing customers can also upgrade their cabinets to incorporate DTM.
*Requires network connectivity.
SmartLine™ with PowaSave™
The patented SmartLine™ with PowaSave™ features unique ultra-safe low voltage built-in charging cables specific to the make and model of laptop, Chromebook, or netbook, eliminating the need for AC adaptors.
The highly intelligent SmartLine™ charging system incorporates PowaSave™ as standard. When devices are fully charged, PowaSave™ automatically turns off its internal power supplies rather than dissipating wasted electric as heat. Charging is automatically reinstated when required by the devices. This feature alone will recover the cost of the cabinet in a short space of time in saved electricity.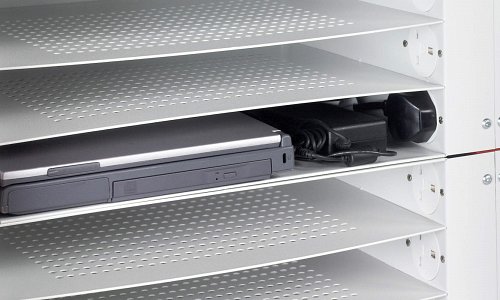 ChargeLine™
ChargeLine uses the devices own AC adaptor plugged in to a standard 3 pin, 13 amp socket to charge devices (Euro sockets available). The socket is situated at the front of each bay so that there is no need to reach around the rear of the unit to plug in the AC adaptors, making them easy to remove if required.
For complete safety, the trolley automatically shuts off power to the sockets as soon as the doors are opened.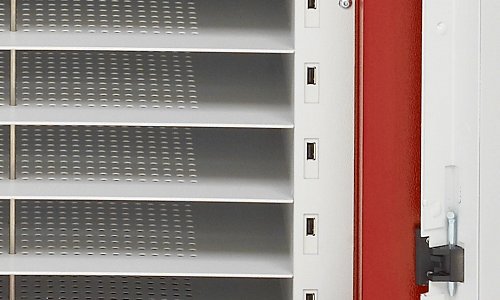 USB
USB charge only modules allow tablets such as iPads to be charged at full rate. Users connect their own USB cable to the conveniently placed USB 2.0 sockets at the front of each storage and charging bay.
Highly secure storage and charging for up to 64 tablets
Unique modular construction – upgradable & future proof
Simultaneous full rate charging of all devices
Ultra-safe power management
Uses devices own USB cables -Effective cable management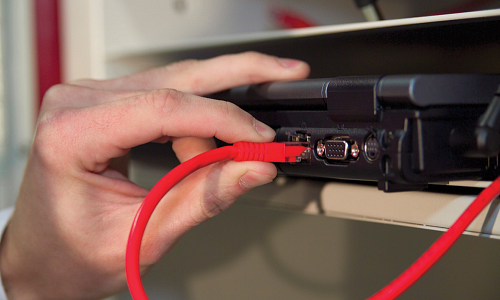 Data Transfer
The data transfer model facilitates simultaneous updating of all laptops stored within the charging trolley.
*Requires network connectivity