indigodesk
With a small footprint this attractive desk cabinet is perfect for managing up to 12 devices.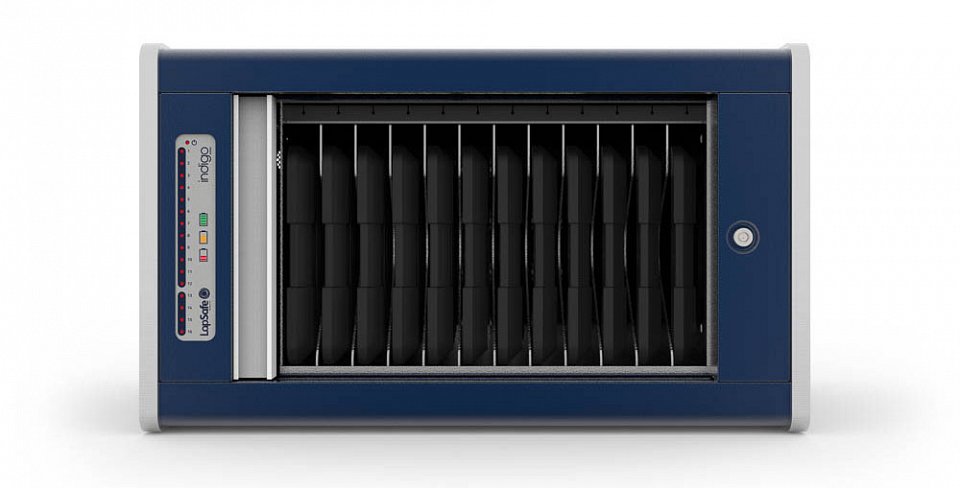 The indigodesk with its small footprint is one of the most space effective ways to store, charge and/or sync your devices.
Suitable for use in locations such as: offices, hospitals, classrooms and IT Support areas, indigodesk provides a perfect solution for managing your devices.
With two choices of module offering either horizontal or vertical storage, it is possible to house some of the largest tablets in the market today, including the iPad Pro.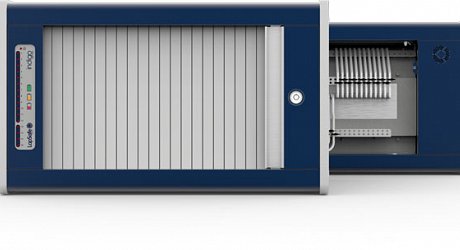 CS Pro
With its single module the indigodesk CS Pro™ 12 can accommodate up to twelve devices in foam lined bays.
With a host connected, our USB 3.0 CS Pro technology enables you to 'charge and sync' both the 12 internal devices and 4 additional devices connected to the external ports.
For more information on our charge and sync please see below.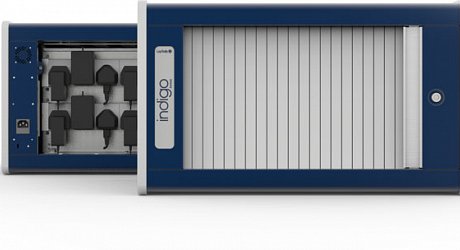 ChargeLine
The indigodesk ChargeLine™ 12 accommodates 12 devices in foam lined bays using the devices own AC adaptors.
Store and charge a mix of devices using their own power supplies rather than via USB, for example the Microsoft Surface.
Placing your devices in the unit could not be easier with quick access and neat cable management of the charging leads.
For more information on our 'charge only' please see below.
CS Pro
'Charge & Sync'
Our brand NEW 'charge and sync' board; the CS Pro™ 16, designed from the ground up, provides both charging and synchronisation of data to tablet devices. Now USB 3.0 compatible devices can transfer data at phenomenal speeds of up to 640 MBps – 10x faster than our previous versions.
Automatic full rate charging for USB devices is provided using our auto detection system, ensuring that your devices are charged safely and in the quickest possible time. Full rate charge is only provided when the device demands it, ensuring that we use the most efficient charging method at any time.
Remote Access
Remote access and control of each individual port is possible, with the later launch of our Indigo Remote Manager software. The current state of each USB port can be monitored or changed to suit your demands. Each unit in your estate can be managed from a single console; apart from checking on the charge and sync status the remote management tool also reports any issues with your CS Pro™ deployment (Coming to iOS and Android soon).
Our new Indigo range fitted with the CS Pro™ are also fitted with a LED information display to provide information to the user, on charge state and sync progress.
ChargeLine
'Charge Only'
For devices that do not charge via USB or where syncing is not required, our ChargeLine™ solution will provide you with standard three pin mains sockets, for you to use the devices' own AC adaptors.
Cable management is provided to house AC adaptors neatly and easy to access.
Where required charging is fully power managed including soft-start, surge and most importantly residual voltage protection.
ChargeLine™ is a perfect solution when you need to charge different devices in the same storage solution, from tablets, hybrid devices to chromebooks or Macbooks.