Diplomat™ PIN
Intelligent self-service charging locker range fitted with a miniPad to each locker bay offering completely keyless and cable-free access using a clever standalone battery PIN controlled lock. Charges devices such as laptops, Chromebooks and tablets such as iPads. Smart easy to manage charging lockers.
The Diplomat™ PIN range incorporates individual charging lockers with a miniPad fitted to each locker bay, offering a host of functionality when using this clever standalone battery PIN controlled lock.
miniPad is unaffected by power outages and does not require connection to your IT system. miniPad is perfect for lockers operated by single dedicated users, or areas where multiple users can use the same locker - to operate you simply type your code into the keypad.
With TANmode™ it is possible to manage codes and users; either with a 'lite' standalone version or the full 'cloud' based version.
Simple intuitive keypad operation
Single or multi user mode
Over 10 billion code variations
Keyless operation
TAN Software administration option
Simple master and reset function
5-year battery life
SmartLine™ with PowaSave™
LapSafe®'s patented SmartLine™ with PowaSave™ features unique ultra-safe low voltage built-in charging cables specific to the make and model of laptop, Chromebook, or netbook, eliminating the need for AC adaptors.
The highly intelligent SmartLine™ charging system incorporates PowaSave™ as standard which means that when devices are fully charged, PowaSave™ automatically turns off its internal power supplies rather than dissipating wasted electric as heat. Charging is automatically reinstated when required by the devices.
With fully integrated LapSafe® SmartLine™ charging devices are all charged simultaneously in the fastest possible time.
ChargeLine™ Ultra
ChargeLine Ultra provides a single 13 amp mains socket (UK only) as well as twin USB sockets to charge up to three devices simultaneously, either using the devices own AC adaptor or USB charging cables (not provided). Conveniently placed at the front of each individual charging bay enabling quick and easy access to power on demand.
Single UK 13 amp, 3 pin socket
Individually surge protected
Twin 1.0 amp USB charging sockets
Easy to use
Charges up to 3 devices in each bay simultaneously -Can be used for laptops, tablets, mobile phones and eReader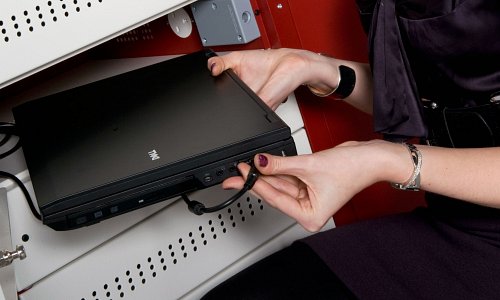 ChargeLine™
When users require a storage and charging space for their own devices, ChargeLine™ is the solution.
Devices charge using their own AC adaptor plugged in to a standard 3 pin, 13amp socket (Euro versions available) located in the side of the locker bay to charge their device when borrowing a locker.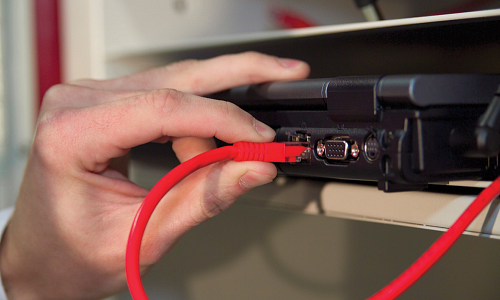 Data Transfer
With the option to provide Cat 5/6 cabling into each locker bay, updates and re-imaging can be carried out with the devices in-situ using Wake on LAN (WoL) technology.
Please check that your devices support the WoL facility with the manufacturer.
Benefits
Access devices 24 x 7 x 365 or BYOD
Reduction in staff interaction for loaning devices
Best-charged device loaning with SmartLine™
Power saving charging solution
Increased access of devices for borrowers
Features
Low voltage, USB and mains charging as required
Scalable solution with no limits on the total number of lockers
Supports device loans and Bring Your Own Device (BYOD) all in one system
miniPad multi-user or TANmode™ options
TANmode™
TAN mode™
TAN stands for Trans Actions Number. By definition TAN is a one-time password that consists usually of six decimal digits. We have applied an improved system based on online banking security, to locking technology.
Lock management & administration
Lock and locker management can be one of the most costly and challenging activities undertaken in large organisations. TANmode™ offers a highly secure and efficient software solution for dynamic and flexible remote locker management that can be adapted to an individual client's requirements. TANmode™ is the most sophisticated, easy to operate and secure contemporary locking software.
A lock management solution
TANmode™ is a unique patent pending software solution for the miniPAD keyless lock. It provides an innovative lock management system with an automated and adjustable random code generation. It is perfectly suited to multiple user locks and invaluable as a key management system for permanent users in educational or business environments.
Construction
Each Diplomat™ PIN consists of 12 bay locker towers. The steel chassis and doors are fitted with continuous hinge and electronic locks providing safe storage for your devices.
Peace of mind
Fully independently CE certified by a notified body
LapSafe® ultra-safe power management as STANDARD
Installation by our own engineers
LapSafe® support desk