Diplomat CAM
Lockers are fitted with a single camlock style lock, each with a unique key number which can either be pre-assigned to a user for a set period or manually loaned as and when required by a staff member.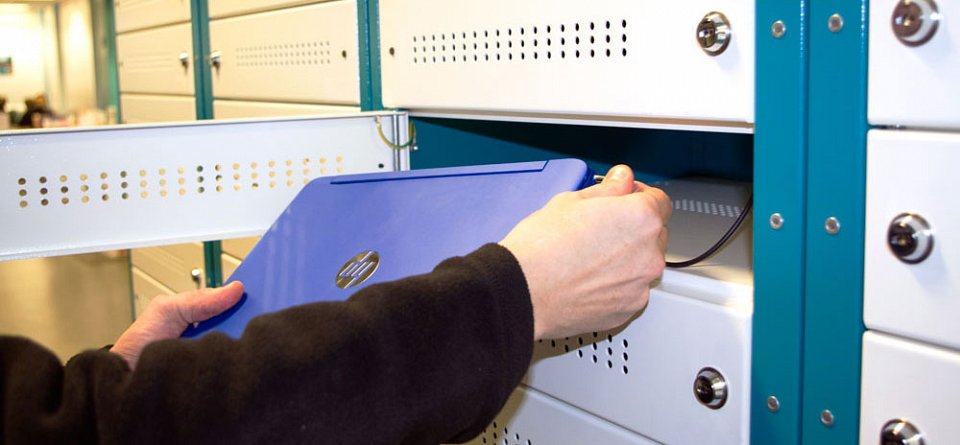 Supporting both BYOD and device loans, the Diplomat™ CAM safely stores and charges devices such as laptops, Chromebooks, netbooks and tablets.
Each locker bay is fitted with a camlock style lock with a unique key number. The key numbers can be pre-assigned to a user for a set period or manually loaned by a member of staff as and when required. All locks provided can be overridden with a master key so the control of lockers is maintained for emergency access if a locker key is lost or stolen.
Towers come in bays of 12 and can be bolted to one another for an unlimited number of bays.
Charging of devices is provided by either low voltage supply specific to the device, USB (up to 2.1 amp) or for loaning lockers to support Bring Your Own Device (BYOD); then a 13 amp mains socket can be installed for the users AC adaptor to be plugged into. (Euro versions available). It is also possible to support both 13 amp mains socket and USB charging socket into each bay.
The Diplomat™ CAM is a simple yet effective way to manage multiple charging lockers and devices when a cost effective solution is required.
Power Management
All our products are fitted with sophisticated electronics to manage safe power for the user as well as the devices as STANDARD. Diplomat™ CAM includes protection for in-rush, power surge and residual voltage, protecting the user and the device at all times.
Benefits
Over 5,000 key combinations
Master key for override
Simple to use
Increased access of devices for borrowers
Features
Low voltage, USB and/or mains charging as required
Scalable solution with no limits on the total number of lockers
Supports device loans and BYOD all in one system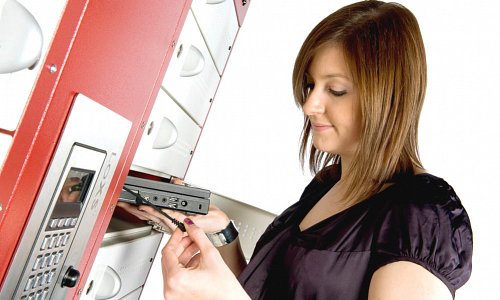 SmartLine™ with PowaSave™
LapSafe®'s patented SmartLine™ with PowaSave™ features unique ultra-safe low voltage built-in charging cables specific to the make and model of laptop, Chromebook, or netbook, eliminating the need for AC adaptors.
The highly intelligent SmartLine™ charging system incorporates PowaSave™ as standard. which means that when devices are fully charged, PowaSave™ automatically turns off its internal power supplies rather than dissipating wasted electric as heat. Charging is automatically reinstated when required by the devices. This feature alone will recover the cost of the cabinet in a short space of time in saved electricity.
With fully integrated LapSafe® SmartLine™ charging devices are all charged simultaneously in the fastest possible time.
ChargeLine (for BYOD)
When users require a storage and charging space for their own devices, ChargeLine™ is the solution.
Devices charge using their own AC adaptor plugged in to a standard 3 pin, 13amp socket (Euro versions available) located in the side of the locker bay to charge their device when borrowing a locker.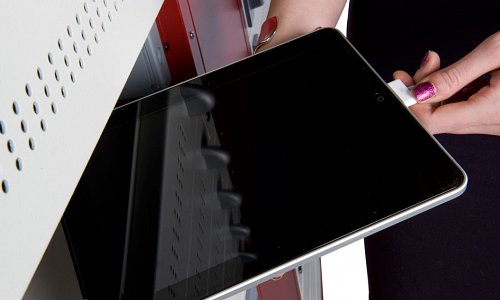 USB
USB charging is provided by factory fitting the customers own USB leads into the Diplomat. Full rate 2.1amp charging is provided as the devices demands. Most devices that charge via USB are supported as standard.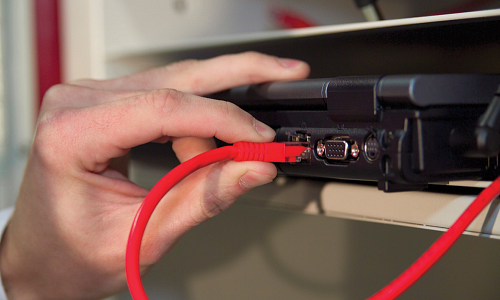 Data Transfer
With the option to provide Cat 5/6 cabling into each locker bay, updates and re-imaging can be carried out with the devices in-situ using Wake on LAN (WoL) technology.
Please check that your devices support the WoL facility with the manufacturer.